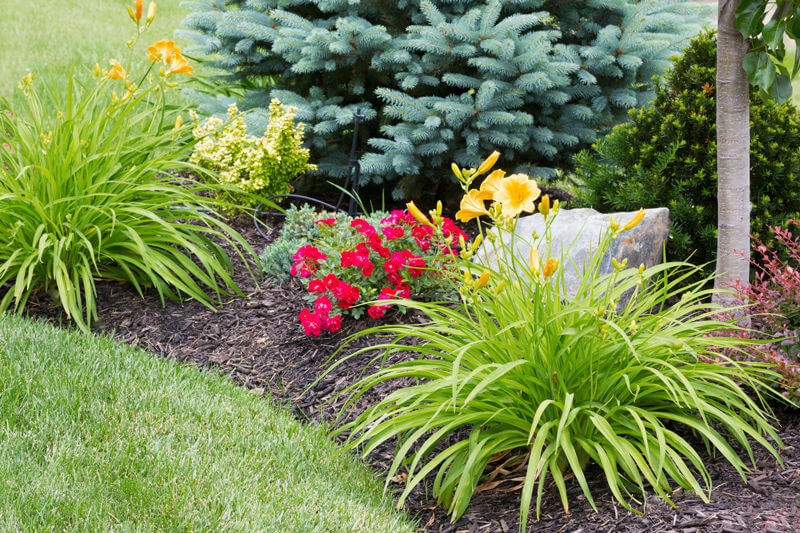 It's nice to think that all you have to do is plant perennials once and you will have color year after year with out having to work for it. But, are perennial beds maintenance-free? Any experienced gardener knows – when it comes to gardening – nothing is maintenance-free!
Perennial bed design and maintenance is one of those things many New Hampshire landscape companies shy away from doing. For one thing, a landscaper first needs to be able to identify what a landscape perennial is. Weeding flowerbeds or dividing perennials is not particularly glamorous work, but it is essential to having healthy perennial flowers. If prized perennials are destroyed in the process, nobody's happy.
At Trimmers Landscaping in Londonderry, New Hampshire, we have a horticultural team that specializes in planting bed maintenance. Whether there's flowering trees and shrubs to prune, weeds to pull, or perennials to divide and relocate perennials, or adding seasonal color like annual flowers or spring bulbs, this specialized crew can handle it.
The decision what to plant where ideally should come from a perennial design, but sometimes avid perennial gardeners simply move things around, look at them and then move them a little more the next year. Many factors determine the success of a perennial bed including soil structure, moisture, and the overall hardiness of the perennial. Some perennials only last several years and need to be replaced.
Most perennials bloom between mid-spring and early summer, then again in late summer and early fall. To get three-season color, it makes sense to mix in some annual flowers to "bridge the gap" in between bloom times. We can recommend and install the appropriate annual flowers to fill in your flowerbeds according to the blooming time, color, and height.
Don't ignore those unattended areas of your yard any longer! Call us today to meet with our horticulturist!